Alliance (Cobrinha) Brazilian Jiu Jitsu Black Belt Cris Cyborg is a 2x IBJJF Brazilian Jiu Jitsu Champion (Faixa Roxa) and an ADCC Submission Grappling Medalist who competed at a national level in Brazilian wrestling before earning her Chute Boxe Muay Thai Black Belt from the famed Curitiba Brazil Gym.
Undefeated as a professional Muay Thai fighter until her decision loss to Muay Thai Legend Jorina Baars in 2014 her only defeat in the sport of Muay Thai. The CURRENT Bellator MMA Champion, Cris Cyborg is considered as the only Grand Slam Champion in the sport of Mixed Martial Arts (Men and Women) after winning Championship belts in the Bellator MMA, UFC, Invicta FC, and Strikeforce promotions.
Cris Cyborg had a historic 14 year unbeaten period which is the longest reigning period of any female champion in the sport. Now entering her 18th year as a professional MMA fighter and still ranked in the ESPN Pound for Pound rankings, Cris Cyborg has only suffered two defeats during her historic career and has been undefeated since 2019.
While nominated for WMMA Female Fighter of the year in 2022 Cris Cyborg made combat sports history when she captured the FMS SuperWelterweight South of Brazil Championship in her Boxing debut against Brazilian National Champion Simone Silva, becoming the first female fighter to be nominated for Female MMA Fighter of The Year and to record a Professional Boxing victory during the same period.
Cyborg who is currently undefeated in Boxing has proved herself as a true F'ing Legend in all Combat Sports no matter the rules!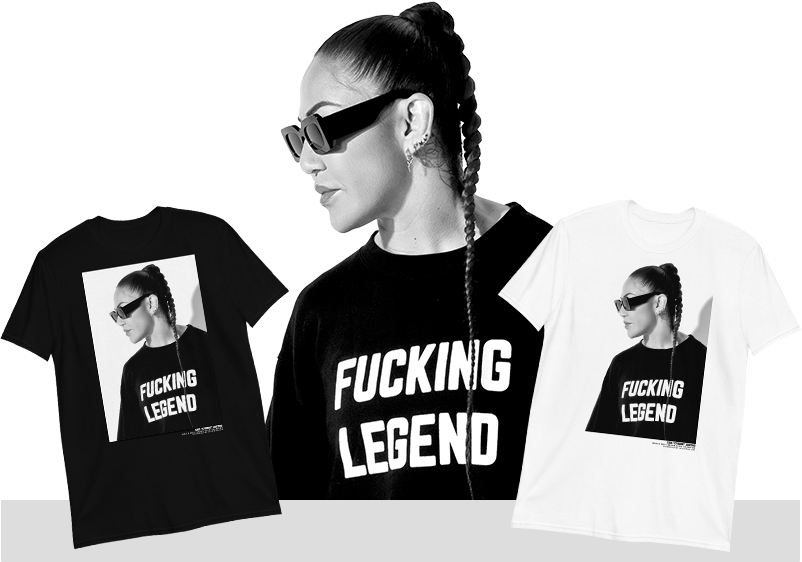 Buy the F'ing Legend shirt in the Official Cris Cyborg online store!
Visit the store

No matter if it is BJJ, Submission Grappling, Wrestling, Muay Thai, MMA, or Professional Boxing Cris Cyborg has proven she is one of the best female fighters to have ever stepped on the mat, ring, tatame, or cage!